14 mai 2011
The BeadMavens is a wonderful group of talented beaders, who share their knowledge, ideas and creativity with the rest of us beaders. On Fridays they sometimes publish a free tutorial, courtesy of one of the group's members. Back in March, NEDbeads offered a free tutorial of her beautiful Trellis Necklace for just one day to people who would leave a comment on the BeadMavens blog and sent her an email.
Unfortunately, I was too late and missed the generous free offer by a few hours. A beady friend of mine, who was on time but decided not to make the Trellis Necklace sent me her copy, after she heard how sorry I was to have missed it. I just loved making it!
After completing several sections of the necklace I knew I had to make a focal element to go with it, and I found this donut that was just the right color for the gemstone beads I used to connect the necklace sections. I played around with the traditional netted donut and came up with this design.
So here it is: Trellis Necklace with my Lacy Donut. I think they go together really well, don't you?
If enough people like the donut, I'll be happy to make a tutorial and offer it for free. So please let me know if you are interested.
The excellent tutorial for the Trellis Necklace is on sale on NEDbeads' Etsy shop.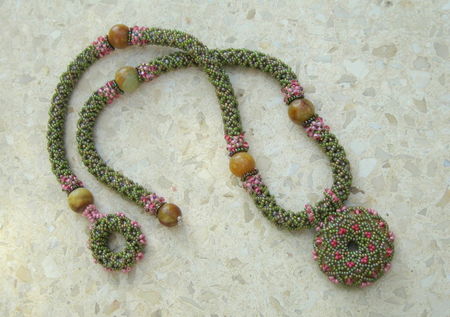 11 mai 2011
It has been over a year since I last blogged. I must be the worst blogger on the entire Internet.
But I haven't been completely idle during this year. I have accomplished quite a bit of beading and I have the jewelery to proove it.
I decided not to bombard the blog all at once with the pictures of everything I have done in the past year. Instead I will start posting pictures bit by bit in the coming weeks.
I'll start from the most recent and will work my way backward in time.
So this my latest. I just finished making this set of freeform bracelet and necklace. I was very much inspired by the talented Bevely Ash Gilbert. I met her in Milwaukee last year, where she taught a workshop next door to another class I was taking. I fell in love with her bead soups and her colorful style. I bought her book "Beaded Colorways" and learned a lot from it about color and about freeform.
This was my almost first attempt at freeform beading and I can tell you it is so much fun! It does require some amount of planning but within those boundries it is absolutely great to freely play around with color, form and texture.
Here is the bracelet
the necklace,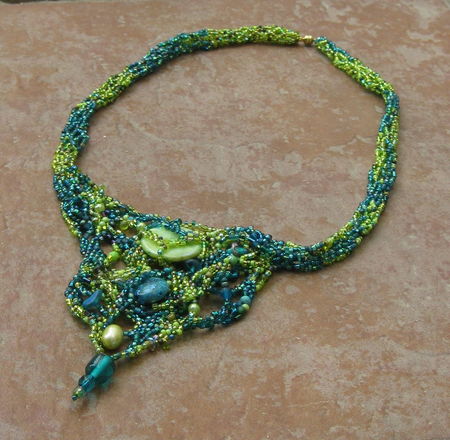 and together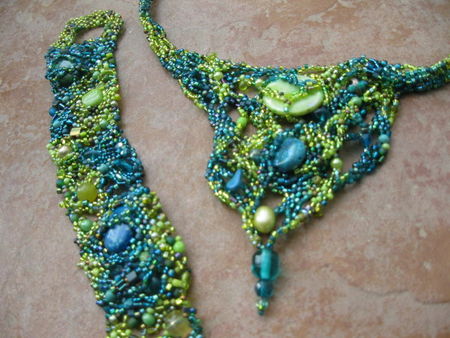 I am so happy to have added freeform beading to my repertoire. I know I will be doing more of this.
04 avril 2010
There are so many beading challenges going on all over the beadingsphere!
Once in a while I feel like joining. This was the case with Margie Deeb's Turquoise Color Challenge on the Art Bead Scene blog.
I have to admit that the palette did not immediately appeal to me , it sort of grew on me as I progressed.
Only that I failed to notice one little detail in the challenge guidelines, which was that the entry had to incorporate an Art Bead. Oops...... I used some turquoise stones I had laying around for a while and create beaded beads. When I finally noticed the restriction, I was already deep into the project, and decided to submit it.
So I wasn't that surprised when I was notified that my entry did not qualify.
I still like my necklace. I hope you do too.
The spiral at the bottom of the necklace originally appeared in Bead and Button from October 2005 and was created by Aleta Ford Baker . Oceanie Creations offers excellent explanations for the lovely variation that I used.
27 février 2010
Once again I participated in Coco's Friendly Challenge of creating a piece of beaded lace jewelery after a motif proposed by the talented Colette L'hopitale-Navarre. Here is my necklace: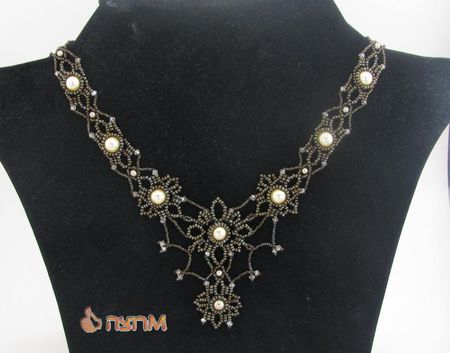 Check out all the other wonderful creations made for this challenge.
19 février 2010
Last week I decided to make Marcia de Coster's bracelet Cappadocia from her wonderful book "Beaded Opulence". The only 3 mm filepolished beads I had enough of (706 units!) was a pale transparent green. I had about a third of the amount with an AB finish and two thirds without. I decided that should do, and started RAWing away. When I got quite far into the project I realized that the result with the beads I had chosen was....well "bland" would be an understated word. I'd say "blah"..... boring.... unappealing.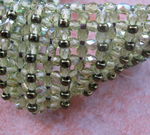 By then I had already completed more than half of the bracelet . I was about to take it apart. I have done that often enough in the past when I wasn't happy with the result even at later stages into the project, when I was "invested" deeper.
But I felt this one I could save.
I started playing around with some embellishment options. This is how it came out:
The picture does not even come close to relaying the "bling" and the tridimensional effect of this beauty.
This one, albeit out of focus, comes a bit closer: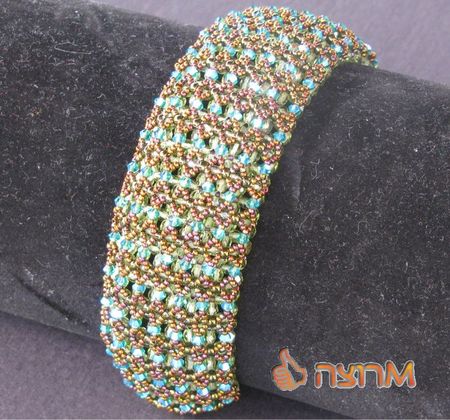 Here is another one:
I named it Göreme, after the nicest spot in Cappadocia. I am so happy with how it came out!
18 décembre 2009
My dear friend Coco from Labijoutisse is a very talented beader who has managed to create her own distinctive personal style of beaded lace. A while ago Coco invited the visiters of her blog to join her in a friendly challenge to create a necklace by using a small lacy motif she designed.
I was very happy for the opportunity to try this style and wrote to Coco to say I would love to join. This is the small motif Coco designed for this challenge, to be used in any desired way in a necklace.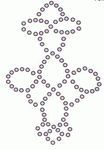 Coco makes her beaded lace from size 11/0 seed beads. I decided to use 15/0 and found myself developing the basic motif into several other ones. Here is the resulting necklace: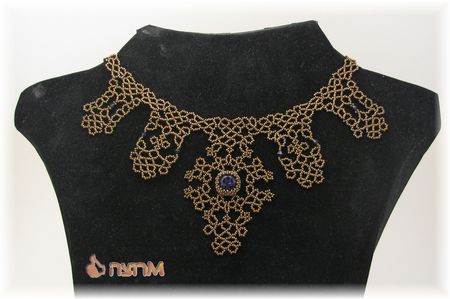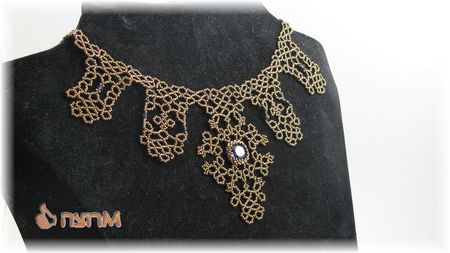 Make sure to check out all the other wonderful entries in this great challenge. Colette promised there will be more of these in the future so stay tuned to her blog.
Thank you again Colette for this wonderful opportunity to try out this beautiful style!
29 novembre 2009
My mom brough back with her from her visit to the States two fabulous new beading books for me. "Beaded Opulence" by Marcia Decoster and "Bead Fusion" by Rachel Nelson- Smith. I just couldn't put them down. I loved everything about those two books: the projects, the photography, the quality of production, the paper - WOW!
I couldn't make up my mind which projext to do first, so it took me a bit of time to decide, to check I had all the materials and to start. The first was Twilight by Marcia Decoster. I fell in love with the texture, the idea that this was free form, but still within "rules", the opportunity to play with colours and finishes.
So now I had to make coulor choices. I started in several directions and somehow they always ended up in same place: autumn colours. greens, reds and yellow-orange-gold.
We don't really have autumn in Israel. Somehow summer winds down straight into winter, if it can be called winter at all. We never get those fabulous fall colours that you see in Europe and the US and Canada. So I can't really even blame it on the season.
Anyway, here it is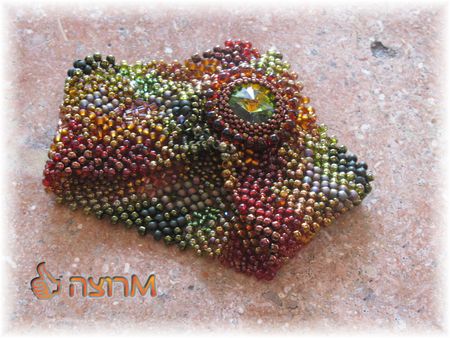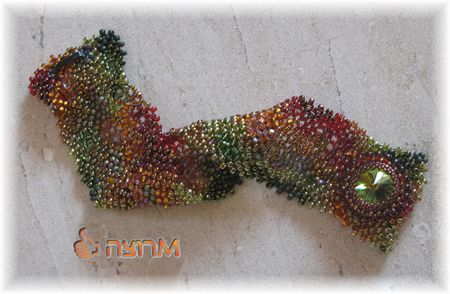 10 octobre 2009
I'm on a roll! I spent the weekend bringing some pieces to their happy completion.
I have to confess. have this annoying tendency to start numerous projects simultaneously and not finish most of them. Some I leave somewhere along the line because I don't like the outcome; In other cases a broken bead or the end of a thread is enough to make me put it down. Sometimes I make a focal item and then run out of ideas how to mount it, so I just leave it laying around until I get inspired. Plenty of reasons not to finish work. And then, one day I just get filled with the right kind of energy and ambition and there I am, completing one piece after the other. Today is such a day.
I made these three Kim's Flowers (by Kim Anderson) quite while ago and couldn't decide what to do with them. Until today: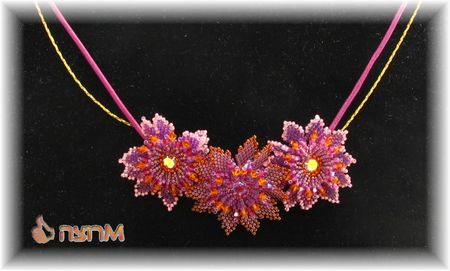 I made this simple netted necklace a couple of day ago after seeing it in a workshop. I have no idea who originally designed it. Sometimes I just love simple and fast.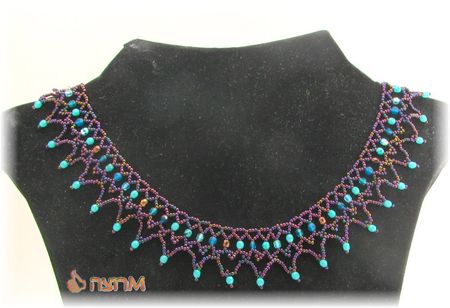 The last two pendants are my version to Colette's Serti Swirl. I totally fell in love with this design the moment I saw it on Colette's blog . In adition to being a most generous woman, Colette is a wonderful beader, with a unique style and technique. I adapted her schema to smaller beads and I think the result is beautiful. I hope the photos reflect some of their real beauty.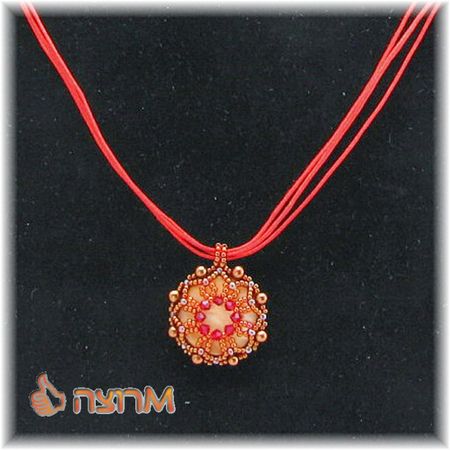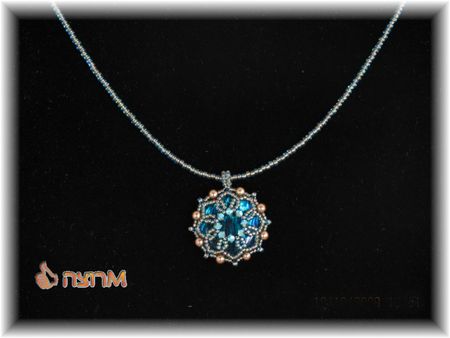 02 octobre 2009
How do I start a new post after almost half a year of absence from this blog? Am I supposted to apologize or something? Probably.
But I don't think I will.
Here are some new pieces that I felt like showing to the world: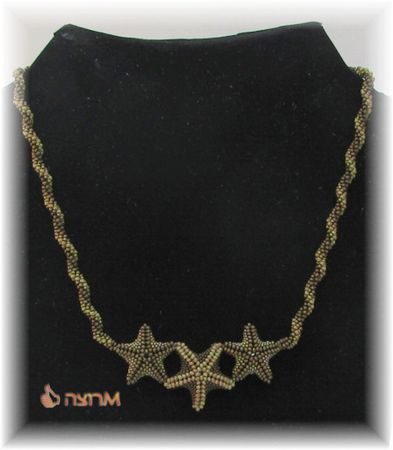 I love the simplicity and cleanliness of these three starfish.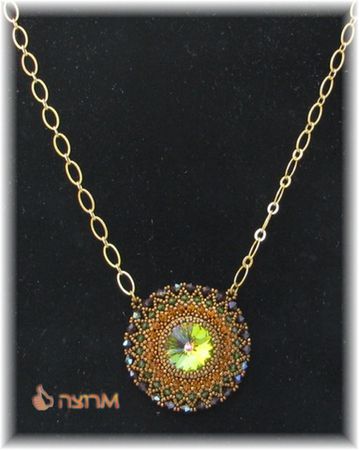 Incas by Le gioie di Happyland from http://happylandblog.blogspot.com/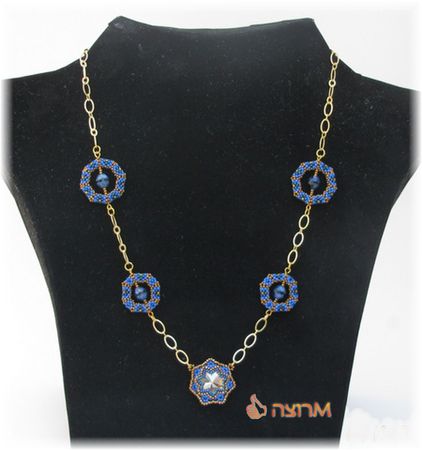 My friend Anat ordered this necklace for her birthday in her mom's behalf.
The focal is "Etoile Double Face" By Flymouche from http://flyblog.canalblog.com/. The hoops are "Java'Ad" by MU http://centperles.canalblog.com/
This was also a chance to break in my new camera.
16 mars 2009
This weekend I am participating for the first time at an artfair. Shabbat Omanim - Artists Weekend, has been held in Kiryat Tivon, where my mother lives, on on the weekend before Passover for the past 15 years or so. Kiryat Tivon is a beautiful, pittoresque town and at this time of the year there are wild flowers all over the place and in the gardens. There are about 150 open houses of local artist of all art forms. People come from all over the coutry to visit the local artists and enjoy the wonderful and special atmosphere.
My mother's partner, Eli Lore, is a wonderful glass artist, who creates lovely miniature sculptures in clear glass. He has been participating at the even for years. This year I shall be joining him with my beaded jewelry.
I have been preparing for this for the past few months and managed to get together quite a collection. Here are some pictures:
Now let's hope the weather is nice and that lots of people come.